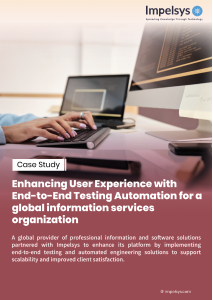 Enhancing User Experience with End-to-End Testing Automation for a global information services organization
Industry:

Healthcare

Offerings:

Testing
Services Provided:

Cloud Services
Business Case
The client is a prominent global provider of professional information, software solutions, and services spanning multiple industries, such as healthcare, finance, law, and education. They help bridge the gap for students between classroom and clinical practice while supporting healthcare professionals. To improve their educational platform, they needed to address challenges related to UI Automation, backend API testing, and integrated user gateway services.
The Solution
Experts at Impelsys engineered an automated end-to-end testing solution to seamlessly address a variety of user roles, such as admins, instructors, and students. This involved meticulous validation of integrated features through comprehensive manual checks.
The backend service validation was achieved through API verification. A suite of powerful tools, including Cypress, Postman, Python (PyCharm IDE), Selenium, and Katalon IDE, was strategically deployed to enhance the process.
Outcome
The application automation solution increased scalability and accountability, resulting in reduced time and fewer errors while enhancing cost efficiency and client satisfaction. UI Automation with the Cypress tool ensured cross-verification across browsers via BrowserStack's development integration, improving application flow. API Automation provided optimal performance for all integrated modules, enabling seamless integration and deployment across different environments.
Download the whole case study by filling the adjacent form.