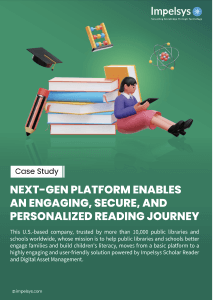 Next-Gen Platform Enables Personalized, Engaging, and Secure Reading Journey
Industry:

Education/Learning

Offerings:

Scholar Reader
Business Case
This U.S.-based company, trusted by more than 10,000 public libraries and schools worldwide, was established to facilitate the discovery and enjoyment of books for families. The company's mission is to aid in connecting readers of various ages with books that align with their preferences. It offers a range of solutions for educational institutions, libraries, and families to encourage reading. To convert its goal and mission into actuals, the company's challenge was its existing technology solution, a basic reader with limited functionality.
The Solution
Impelsys proposed two key solutions to the client, Scholar Reader and Digital Asset Management (DAM). The Reader empowers the client to integrate with their existing eBook or eLearning delivery solutions so that their learners can seamlessly consume eLearning content in multiple formats within their existing platform. Secondly, the team integrated a Digital Asset Management (DAM) solution that provides a centralized repository to create, manage, share, track, and find digital assets.
Outcome
With the new solution, the client's end users experience an elevated reading experience. With advanced personalization options, interactive multimedia elements, and a strong focus on copyright protection and security, users can enjoy a more tailored, engaging, and secure reading journey.
Download the whole case study by filling the adjacent form.