Consulting and Advisory Services
Impelsys' consulting and advisory services help organizations identify opportunities to bring operational efficiencies and target strategic growth through digital transformation across business functions, business processes, and technology. Our experts look at the business challenges, conduct analysis (capabilities, competition, markets & industry, processes, workflows, and technology landscape), and recommend transformational approaches to achieve desired business outcomes.
Impelsys can help healthcare knowledge providers with
Business Consulting
Our business consulting advisory services help organizations achieve their goals by transformation of their operations, processes, and technology ecosystem. We focus on following services:
Conceptualization & Ideation: Helping businesses explore new markets and offerings.
Competitive benchmarking: Analyzing a business's competition and identifying opportunities for growth and improvement.
Market Research: Conducting research to identify market trends and opportunities to help organizations innovate.
Business Strategy: Working with businesses to develop strategic plans and achieve their organizational goals.
Branding and Placement: Helping businesses establish a strong brand identity and position themselves for success.
Go-to-Market Strategy: Developing a comprehensive strategy to successfully launch and market a company's product or service.
Operational Efficiency: Improving business processes to increase efficiency and profitability by identifying bottlenecks and optimizing resources.
Workflows & Data flows: Managing and optimizing the workflows & dataflows within the solution ecosystem to improve data integrity and ownership across applications.
Strategy Consulting
At Impelsys, we understand that a solid strategy is essential for success. Our strategy consulting engagement helps organizations set goals toward meeting their visions and develop actionable plans for achieving them. We offer the following services:
Organizational Transformation: Designing strategies to align with an organization's goals, culture, and values. This can involve restructuring, implementing new systems, and building capabilities.
Change Management: Managing transitions to new processes and systems by identifying challenges, building a communication plan, and supporting employees.
Competitive Analysis: Evaluating competition to identify strengths, weaknesses, opportunities, and threats to improve an organization's position in the market.
Strategic Planning: Defining strategies to achieve goals by identifying priorities, opportunities, and risks. This includes setting objectives, defining tactics, and measuring progress.
Technology Consulting
Technology is a critical component of success in today's fast-paced business environment. Our consulting services help organizations build Technology Reference Models to improve their operations, increase efficiency, and gain a competitive advantage. We offer the following services:
Technology Reference Model & Roadmap: Guiding an organization's technology investments, based on an assessment of specific business needs, existing technology stack, and industry trends.
Cloud Computing: Advising organizations on how to move their IT infrastructure and applications to the cloud and managing the transition to cloud-based solutions.
Digital Transformation: Helping organizations to leverage emerging technologies such as AI, IoT, and blockchain to transform their business models and operations.
Technology Risk Management (TRM): Identifying, reducing, and managing technology risks to safeguard an organization's operations, finances, and reputation. Our TRM program includes cybersecurity, risk assessment, mitigation, incident response planning, compliance, and ongoing monitoring.
Experience across Industry Verticals

EdTech

Healthcare

Tradeshows & Events

Associations & Societies

E-publishing

Retail & Ecommerce
Experience Across Industries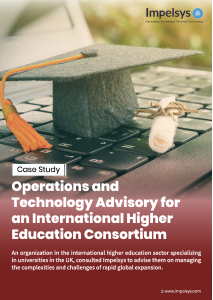 #Education
Operations and Technology Advisory for an International Higher Education Consortium
Download now