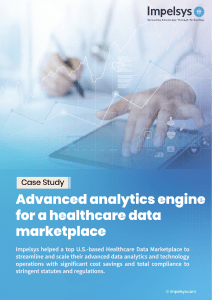 Advanced analytics engine for a healthcare data marketplace
Industry:

Healthcare

Offerings:

Technology Services
Services Provided:

Data Analytics
Business Case
A prominent healthcare data marketplace based in the U.S. aimed to deliver precise insights to pharmaceutical and life sciences organizations using big data analytics. Their database consisted of over 200 billion lab results, and they needed to accelerate report delivery time. The objective was to optimize and expand their data analytics and technology operations while achieving significant cost savings and complying with healthcare statutes and regulations.
The Solution
Impelsys implemented a one-team approach, utilizing cross-functional teams to develop advanced data analytics processes. They built an automated cohort analytics engine capable of processing large amounts of data, providing real-time and accurate insights. Additionally, an intelligent dashboard was developed to offer prescriptive, descriptive, and predictive analytics. The integrated teams consisted of data scientists, cloud experts, engineers, and clinical experts, who took into account the organization's culture and fitment while ensuring compliance with regulations.
Outcome
The client benefited from accurate insights extracted from large volumes of data with a significant reduction in report generation time from days to a matter of seconds. The highly visual and easy-to-comprehend dashboard provided them with the capability to drill down for deeper insights. Their now streamlined operations, compliant with stringent healthcare statutes and regulations, proved cost-efficient on multiple fronts.
Download the whole case study by filling the adjacent form.