Ensuring that your content is accessible as per Web Content Accessibility Guidelines (WCAG 2.0/2.1)
We are experts in making your content, eLearning course, and websites meet WCAG 2.0/2.1 accessibility standards. We offer accessibility testing, VPAT reports, accessibility implementation, and consultancy services.
One-stop shop to take a print job from initial concept
& design to the printing press
Be it a book, brochure, direct mailer, or any other printed matter. Our attention
to detail ensures accurate file preparation and color manipulation.
Accessibility Testing
Impelsys can help with testing your digital content: websites, eBooks, eLearning courses, online portals, and platforms, and provide recommendations on their status and what needs to be done to make them accessible.
We also offer comprehensive VPAT reports, where certification is required. We test for WCAG 2.0/2.1 Level 1, Level 2, or Level 3 requirements ensuring that your content meets legal requirements for section ADA 508 (US), AODA (Ontario), Equity Act 2020 (UK), EN301-549 (Europe), GIGAW (India), etc.
Accessibility Implementation
If testing gives you a report, then our implementation services help you act on that report and get your accessibility up to required modern standards. Our Instruction Designers and Developers think outside the box, consider various aspects of accessibility, and provide the best possible solutions. Aspects include color contrast on texts, alt texts for pictures, adequate audio support for text and vice-versa, etc.
We make your courses responsive, accessible, and mobile-friendly if that's what your need is.
Alt-text writing
Save SME time for the core work and we can help write Alt text for your images. Alt text for your images is extremely crucial for accessibility and also a value-add for SEO. However, authors and editors do not want to spend their time writing alt text. We, at Impelsys, understand the nuances of writing alt texts for Higher Ed, Medical, K-12, STEM, and corporate requirements.
We help write long descriptions and short descriptions based on your needs.
Whitepaper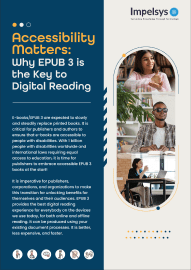 Accessibility Matters: Why EPUB 3 is the Key to Digital Reading
Why Choose Impelsys?
Impelsys has a deep understanding of accessibility requirements as per WCAG 2.0/2.1 standards. We understand regulations across the globe concerning accessibility. At the same time, we are conscious that accessibility testing and implementation is effort and cost-intensive and we strive to offer affordable accessibility testing and implementation services, without compromising on the quality.
With over 20 years in the industry with content, technology, and platforms, you may rely on us for your accessibility needs.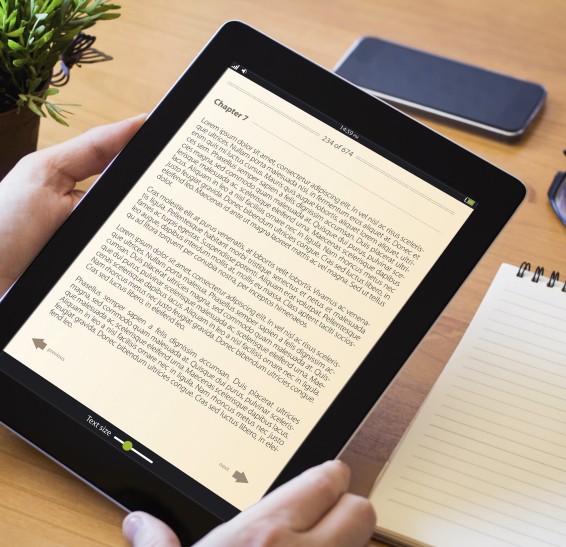 Impelsys is trusted by 270+ companies, big and small
We have worked closely and successfully with corporates, international non-governmental agencies, and not-for-profits. We pride ourselves on meeting and exceeding our clients' high expectations. Here, you can find a few of the many clients.


Blog & Insights
More from Impelsys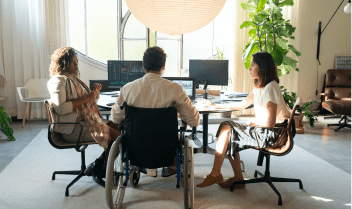 Category
Accessibility Matters: Why EPUB 3 is the Key to Digital Reading
Are you ready to transform?
We have helped 100+ organizations stay ahead of the curve
with our transformative digital learning solutions. Can we help you?
Related offerings & solutions