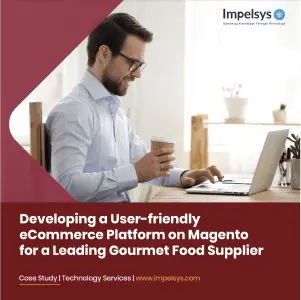 Developing a User-friendly eCommerce Platform on Magento for a Leading Gourmet Food Supplier
Industry:

Ecommerce

Offerings:

Products and Platforms, Technology Services
Requirement
This US client is one of the largest importers and distributors of gourmet products such as Caviar, Truffles, Cheese, and Salmon. They needed an eCommerce solution with scale and agility to meet the demand of a huge customer base and an increasing number of purchases. They also wanted to provide a unique customer experience with customizations based on individual requirements.
Solution
Impelsys upgraded the client's existing platform to a modern, feature-rich, responsive digital storefront using Magento technology. The team customized Ul-design and layout to make it intuitive. Also provided were End-to-end Managed Services such as Site Maintenance, Hosting, Enhancements, SEO, SMO, and Email marketing.
Benefits
The structure of the solution enables maximum flexibility for future digitalization measures and functionalities. The UI/UX from the landing page to checkout provided an enhanced user experience to serve customers with purpose, and the discoverability of products was better.
Download the whole case study by filling the adjacent form.