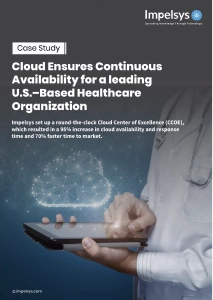 Cloud Ensures Continuous Availability for U.S. Healthcare Research Organization
Industry:

NGO/Learning

Offerings:

Cloud
Business Case
The client, a not-for-profit organization in the U.S. with 35+ million volunteers, strives to fight critical illnesses. The client wanted cloud migration to ensure round-the-clock availability of infrastructure and applications, standardized and automated for their regulated brownfield and greenfield projects. It also wanted the move to be strategic and cost-effective. There was also a need for high availability and disaster recovery of infrastructure and applications through migration.
The Solution
Impelsys offered a three-step process for cloud adoption and created a cloud competency and Cloud Center of Excellence (CCoE) to support all cloud activities. Starting with cloud strategy and roadmap, the Impelsys team offered cloud transformation and cloud-managed services.
Outcome
With a dedicated 300+ offshore team, the client's cloud migration resulted in a 95% increase in availability and response time, 90% faster infrastructure deployment using IAC, 70% faster time-to-market, and a 60% increase in productivity. The client was also assured of 24×7 support for seamless operations.
Download the whole case study by filling the adjacent form.