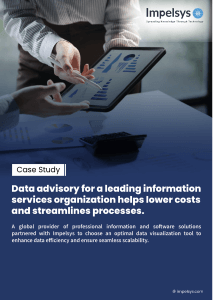 Data Advisory for one of the world's leading information services organizations helps lower costs and ensures streamlined processes.
Industry:

Healthcare

Offerings:

Data Consulting and Advisory
Services Provided:

Cloud Services
Business Case
This client is a prominent global provider of professional information, software solutions, and services spanning multiple industries, such as healthcare, finance, law, and education. The client sought a comprehensive solution encompassing a cost-efficient, swiftly implementable, and scalable data visualization tool to address operational constraints.
The Solution
Impelsys decoded the client's analytics needs, differentiating between advanced and traditional requirements. After evaluating several possibilities, the final solution was arrived at after taking into consideration seamless integration with the existing tech stack, cost-effectiveness, and alignment with vendor solutions.
Outcome
Impelsys' data advisory exercise streamlined processes, reduced costs, and saved time. The tool's impressive scalability effectively served the user base, including students, deans, and instructors.
Download the whole case study by filling the adjacent form.