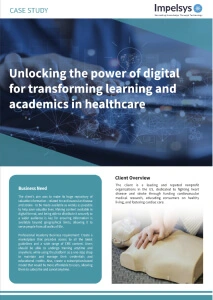 Impelsys Enabled Adaptive Learning for Members of US Non-Profit Healthcare Organization
Industry:

Associations & Societies, Health Education

Offerings:

Learning and Content Services
Requirement
A leading US-based cardiovascular research non-profit organization wanted to make its huge repository of information available digitally, so users could have access anytime and anywhere, and expand its reach beyond current geographical boundaries.
Solution
Impelsys helped with digitizing the client's repository of physical books. A learning academy was created for instructor-led training, blended learning, conferences, and seminars. Learning courses, ebooks, videos, and other content were made available on a robust delivery platform. Technology was developed to enable users to access courses, take assessments and claim credits and certificates.
Benefits
Imeplsys' expertise in technology, e-learning, content engineering, and digital learning platforms helped the client reach a global audience. The implementation of a continuing education academy with subscription-based plans for medical professionals significantly increased their revenue. The client transformed from a traditional medical education provider to a digital-first research organization with a new-age online academy.
Download the whole case study by filling the adjacent form.