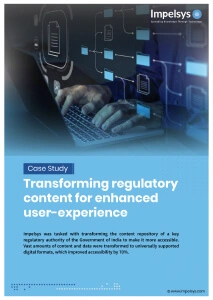 Transforming regulatory content for enhanced user-experience
Industry:

Government

Offerings:

Learning and Content Services
Business Case
A primary governmental administrative body that regulates a key sector in India wanted to migrate its content repository of over 4,000 digital documents to eBooks with cross-reference and cross-link content.
Solution
The content from 4,000 digital documents was quality-checked, indexed, and character-encoded before being made live.
Benefits
70% increase in accessibility and search for portal users. Less than two seconds PCP for all pages and finally, 30 percent increase in m2m efficiency through regular updates for forms, notifications, and circulars.
Download the whole case study by filling the adjacent form.