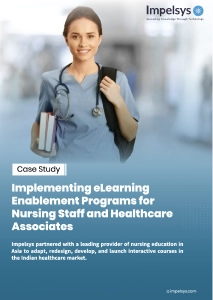 Implementing eLearning Enablement Programs for Nursing Staff and Healthcare Associates
Industry:

Healthcare

Offerings:

Learning and Content Services
Services Provided:

eLearning Solutions
Business Case
A UK-based nursing education provider sought to expand its offerings in Asia, focusing on the Indian market. Impelsys, through its subsidiary MedLern, identified a need for quality healthcare education in India and began searching for content providers. The challenge was to develop region-specific, mobile-friendly content, given the limited access to computers among nursing staff.
Solution
Impelsys' Learning and Content Services team collaborated with the client and MedLern to create interactive eLearning courses with a mobile-first approach. They designed more than 100 hours of mobile-friendly courses using HTML5 and Bootstrap, and established a team of subject matter experts (qualified medical doctors) to review and adapt the content for the Indian market.
Outcome
Impelsys' partnership with the nursing education provider significantly impacted nursing staff and healthcare professionals in India. The courses were instructionally redesigned and adapted to meet regional requirements, making them more accessible and relevant to the Indian market. The mobile-first approach also enabled wider course access, overcoming the challenge of limited computer access. Ultimately, the partnership between Impelsys and the nursing education provider helped improve the quality of healthcare education in India, with potential benefits to the wider healthcare industry in the country and beyond.
Download the whole case study by filling the adjacent form.