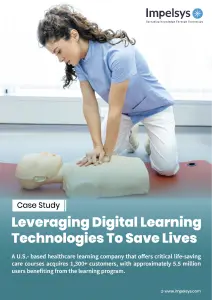 Leveraging Digital Learning Technologies to Save Lives
Industry:

Healthcare, Publishing

Offerings:

Products and Platforms
Services Provided:

Learning Management System
Business Case
Healthcare providers require regular practice in performing CPR, which can only be achieved by ensuring high competency standards. The client needed a platform to roll out a learning program to its B2B customers. The platform needed to empower the client's customers to ensure that their staff underwent regular programs. The system should track completed programs, remind providers regularly about refresher courses, track course completion, and award certificates on completion.
The Solution
A learning management system (LMS) enabled the client's B2B customers to manage their respective learners' assignments and course completion. Support was also provided to customers who have their own native LMS, and such customers were allowed to access the course content through the LMS platform.
Outcome
Healthcare institutions using the platform saw a 20% increase in survival rates from cardiac arrest. The client has now acquired 1,300+ customers, with approximately 5.5 million users benefiting from the learning program. The average number of courses launched per week is 80,000.
Download the whole case study by filling the adjacent form.