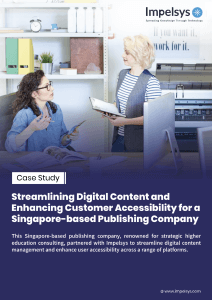 Streamlining Digital Content and Enhancing Customer Accessibility for a Singapore-based Publishing Company
Industry:

Publishing

Offerings:

Products and Platforms
Services Provided:

Cloud Services
Business Case
This client is a Singapore-based publishing company with a rich history of over 200 years in higher education consulting and collaborations worldwide. It needed an integrated solution to streamline content management for an extensive array of digital materials and multiple business models, and to optimize user accessibility and interaction across various platforms.
The Solution
Impelsys collaborated with the client to design multiple business models, such as enterprise solutions, course adoption, and an eLibrary model. The Scholar product enabled the hosting of extensive content across learning domains, showcasing scalability and readiness for future growth.
Outcome
The solution centralized backend management for diverse business models and provided in-depth insights on accessed content, applications, and geography. The platform's flexibility allowed smooth external system integration and real-time institutional, learner, and application data tracking.
Download the whole case study by filling the adjacent form.