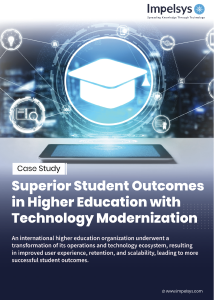 Superior Student Outcomes in Higher Education with Technology Modernization
Industry:

EdTech and Academia

Offerings:

Adaptive Learning, Enterprise Architecture, iPC Scholar
Services Provided:

Technology Services, eLearning modules and Adaptive Learning
Business Case
An organization in the international higher education sector specializing in providing university pathway credentials to students identified the need to modernize their student management system and eLearning capabilities. They aimed to address user retention and scalability issues while enhancing end-user experience.
Solution
Impelsys conducted discovery workshops to identify gaps in the client's technology ecosystem and implemented an Agile methodology to reconstruct their architecture. eLearning modules were created, and the iPC Scholar platform was leveraged to develop an adaptive learning system with eAssessment capabilities for high-stakes exams.
Outcome
This digital transformation improved user retention and scalability, resulting in a better end-user experience. The Agile methodology allowed for a more efficient development process, while the eLearning modules and just-in-time videos provided engaging content, improving the learning experience for students. The client's operations underwent significant improvements, resulting in a marked increase in efficiency and its ability to better serve students.
Download the whole case study by filling the adjacent form.