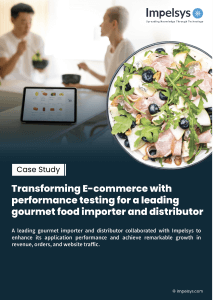 Transforming E-commerce with Performance Testing for a Leading Gourmet Food Importer and Distributor
Industry:

Retail

Offerings:

Testing
Services Provided:

Cloud Services
Business Case
The client is a leading gourmet food importer and distributor renowned for its extensive range of over 1,500+ gourmet products. The mission was to undertake comprehensive testing to uncover potential data risks and evaluate module responsiveness, speed, and functionality under designated workloads to ensure peak performance.
The Solution
Impelsys collaborated closely with the client to enhance website discoverability through a comprehensive SEO strategy that optimized the website's technical setup, content relevance, and link popularity. By conducting rigorous testing on diverse devices and environments, seamless functionality was ensured utilizing tools such as JMeter, X-Ray, and Qualys Security.
Outcome
Performance testing identified and addressed security threats, ensuring data integrity. This comprehensive effort yielded remarkable results, including an impressive 81% upsurge in customer sales revenue and a substantial 90% increase in order volumes.
Download the whole case study by filling the adjacent form.