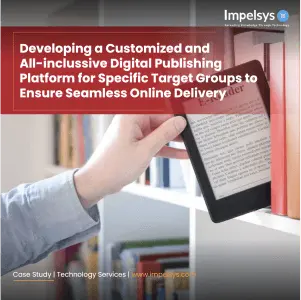 Developing a Customized and All-inclussive Digital Publishing Platform for Specific Target Groups to Ensure Seamless Online Delivery
Industry:

Education, Healthcare, Publishing

Offerings:

Learning and Content Services, Products and Platforms, Technology Services
Requirement
A leading publisher of learning material for medical professionals needed a platform to deliver their online courses to a targeted audience in the growing Asian market. It wanted to allow access to individuals and institutions with different business models like rental, sale, subscription, and customization.
Solution
Impelsys created a delivery solution using the iPC Scholar platform, which included an enterprise content Management system and custom applications for the b2b market. A multi-layer Enterprise Assessment Engine was developed that had a central repository and seamlessly integrated with the client's applications through APIs. Users could search for high-quality resources and license them for their own projects at a cost. The solution enabled subscription licensing and provided actionable reporting on students' progress and scores.
Benefits
Impelsys transformed the client's conventional learning infrastructure into digital.
The client got its own branded website to deliver its products.The client saw remarkable growth in its existing member base by covering new ground to market their products.
Download the whole case study by filling the adjacent form.