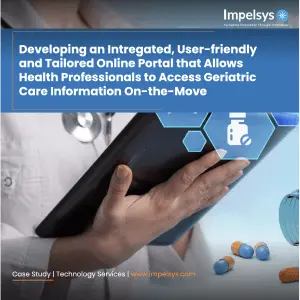 Developing an Intregated, User-friendly, and Tailored Online Portal for Health Professionals to Access Geriatric Care Information On-the-Move
Industry:

Education, Healthcare, Publishing

Offerings:

Products and Platforms, Technology Services
Requirement
The client is a non-profit with a vast portfolio of educational products aimed at improving geriatrics' health and quality of life. They wanted to provide a single online source, secure for payment and personal information, that healthcare professionals could access anytime, anywhere, and on any device.
Solution
Impelsys leveraged its iPC Scholar platform technology to build a portal for users to access content with ease. It supported formats like eBooks, teaching slides, and Pocketcards, had a Single-Sign-On with Avectra through APIs, search functionalities and secure payment options.
Benefits
The iPC Scholar Platform enabled the client to offer customizable rich content to their 40,000+ members caring for older adults across the globe. It brought all their content onto a single platform for easy access and searchability, increasing sales, subscriptions, and revenue.
Download the whole case study by filling the adjacent form.