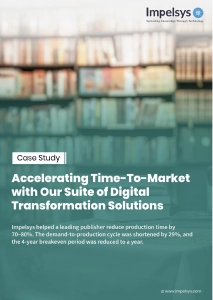 Accelerating Time-To-Market with Our Suite of Digital Transformation Solutions
Industry:

Publishing

Offerings:

Digital Transformation, iPC Scholar
Services Provided:

Pre-print Services, eLearning Solutions and Digital Conversion
Business Case
The client required prepress activities, digital conversion of assets, and eLearning course development. They also needed asset and content management to streamline their operations and generate revenue.
Solution
Impelsys leveraged the iPC Scholar app to design learning pathways and delivered courses for offline reading. We provided prepress services, collaborated with the Ministry of Education, and built asset management systems, CMS, and workflow tools.
Outcome
Our change management system ensured the effective utilization of new capabilities. Book production time was reduced by 70–-80%, the demand-to-production cycle was shortened by 29%, and the 4-year breakeven period was reduced to a year.
Download the whole case study by filling the adjacent form.