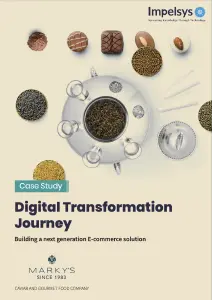 Digital Transformation Journey Next-Generation eCommerce Solution
Industry:

Ecommerce

Offerings:

Technology Services
Business Case
Marky's, a 3-decade-old, recognized name in the world of gourmet products, required a futuristic platform to improve user experience, data management and rebuild the brand image. Marky's also wanted a streamlined order fulfillment process – with minimal disruption to ongoing business.
The Solution
A state-of-the-art B2C website/store, as well as a B2B portal with special requirements for wholesale customers, was created. Massive unstructured data was structured and refined. Comprehensive integration of multiple applications such as ERP, shipping, payment, and marketing with the online store was undertaken, ensuring utmost security.
Outcome
A brand new, beautiful B2C and B2B eCommerce website was developed on Magento and Shopify with seamless, secure migration of a catalog of 2000+ products and vast resources of content with 40000+ customers ensuring a 204% increase in page views/sessions and an 8.31% increase in repeat customers.
Download the whole case study by filling the adjacent form.