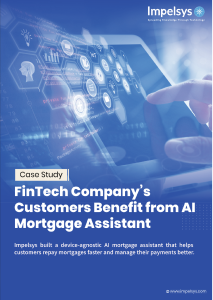 FinTech Company's Customers Benefit from AI Mortgage Assistant
Industry:

Financial Services

Offerings:

Technology Services
Requirement
The client, a pioneer in customer-conscious banking, wanted their UK customers to know and have various options to pay off their mortgages better. The application had to be device agnostic, enabling customers to use saved funds to repay their mortgages.
Solution
Impelsys designed and implemented a mobile AI solution available on iOS and Android to track and optimize mortgage repayment methods. The solution with user-friendly dashboards provided e-Wallet and analytics-based recommendations.
Benefits
The application transformed how customers managed their mortgages and helped them maximize their savings. It also allowed the client's customers to be mortgage-free faster. The app's popularity helped retain and grow the customer base.
Download the whole case study by filling the adjacent form.