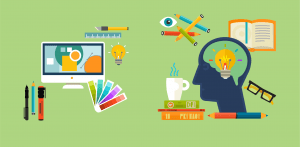 We do this at the beginning of every year, dust off the crystal ball and try to gauge what lies ahead for the year. Publishing, now is largely a tech-driven industry that has been evolving every year for over two decades. The trends this year would mainly follow previous year's, however, some new technologies like blockchain may be regarded with potential applications in publishing and we might see a new drift towards increased demand for quality content and hybrid publishing. Let's have a look at how the year 2018 will look like for digital publishing industry, what new trends will emerge and which ones will consolidate their foothold.
Quality Content
The storm of content on the web is growing every day. With hundreds of thousands of authors producing millions of titles every year, discovery and targeting are some of the big challenges. Besides, with a humongous amount of ebooks being published each year, the quality of the content tends to get diluted. At a time when the hours dedicated to book reading are shifting towards other forms of media, the number of books skyrocketing and the number of readers remaining flat, the content of the title is under pressure. In order to catch the reader's attention and earn readership writers have to produce extraordinary content with the power to keep a reader hooked and content that is worth reader's time and money.
With the rise of online publishing the issue of content degradation has also affected (STM) scientific publishing. Scientific publishing demands a high level of ethical standards like extensive reviewing, editing, accurate representation of credits and verified facts. The multitude of online platforms which do not provide fundamental services like peer reviewing, editing etc are responsible for the drowning of confidence in research literature available online among scholars. Scholarly community which consists of authors, editors and publishers should not be encouraged to publish on these platforms which do not offer the authenticity and confidence required of an ethical journal.
Hybrid Publishing – Digital/ Print
Last couple of years have seen reports of declining ebook sales, citing digital fatigue and nostalgia for print, as the reasons. A little dig in the story will, however, reveal a twist in the plot.Author Earning's most significant report on ebook vs print sales so far dissects the story in detail. Those reports about the slip in ebook sales constitute data collected from traditional publishers who are selling ebooks at higher prices. And the surge in print book sales mainly constituted of adult coloring books, while 70% of adult fiction sales was in ebooks category last year. And the data didn't take into account the indie publishers, Amazon and various other channels. So, the point is ebooks segment is still going strong with over 20% of the total books read in US in 2017 being digital books.
STM publishers can leverage the advantage of dynamic publishing – making  use of huge advances in computing power, analytics, and big data to synthesize answers to users' questions using sources in real time. STM Publishing is right now the fastest growing sector in digital publishing. They have legacy publishing business as the major source of revenue but upgrading their digital efforts, forming a strategic alliance between digital and print and reaching out ot a wider digital audience is inevitable for those who want to stay in the race.
The point to note here is that users are not ready to pay the price of a print book for an ebook, but they haven't given up the digital version and analyses show that ebook consumption will only rise in future. This indicates that the combined strategy of digital and print publication offers the advantage of both the realms for authors. The current generation of young readers is starting to forget the life before digital; also ebooks come with the digital element of linkability to supplemental video content, subscription-based email content, access to discussion and fan forums etc. Authors should also not lose the sight of print publishing in order to monetize their products, build credibility and audience inflow.
Artificial Intelligence
Artificial Intelligence or AI is not a hot buzzword. We have been using it in some way in our daily lives when you think of Google Maps, Siri, Google Assistant or Alexa, and it has been impacting more and more industries each year. AI has become the mainstay of digital advertising, but how it impacts core publishing still remains ambiguous albeit with great potentials, as it goes from being a newbie to mainstream in the coming years.
One of the major obstacles for publishers concerns book discovery, i.e. finding the right audience for a title, or a reader discovering what she needs. Online book recommendation in many of the retailer sites currently uses some form of AI which guesses recommendations based on past purchases and browsing. But the audience satisfaction is still minuscule; Amazon's book recommendation is barely accurate for a reader whose taste in reading varies to a wide range. Companies like Booxby use natural language processing (NLP) and machine learning (ML) to understand the author's unique style (referred to as Literary DNA) and then map it onto the way a reader experiences that style. This AI derived literary DNA gives a unique identity to each title which is then matched for closeness to other titles the user has read already, thus making a precise recommendation, even without the user knowing how it is arrived at.
Content recommendation is the biggest use case of artificial intelligence in publishing, and there are other applications which the technology is finding, like search result precision through machine learning and semantics, short reviews and summaries made of coherent and accurate snippets of text (especially helpful in academic and scientific content discovery), customer service using AI chatbots, optimizing social media marketing and automating and optimizing publishing workflow processes.
Mobility
We've been talking about Mobility for a couple of years but it finds a top spot in publishing trends even in 2018, and that is because book industry still has a tremendous scope with mobility. Mobile content consumption has surpassed desktop.  Authors and publishers need to have a strong presence on the web that is optimized for mobile devices. From 2018 onwards when developing digital content, mobility should be the priority.
Blockchain
'Bitcoin' and 'how to buy bitcoin' were among the top three most searched terms in Google in 2017. The recent skyrocketing valuation of bitcoins has bewildered everyone instilling a sense of FOMO. The technology behind the bitcoin, Blockchain is going to have implication for industries beyond finance, and that potentially includes publishing. So far there is some ambiguity of its use for the industry, however analysts are hoping that it might solve some persistent issues like digital ownership for buyers (remember 1984?). Since it's described to be an open system of a giant, peer-to-peer computer network, it allows transparency that renders every digital copy with a unique identity. Another potential application is in intellectual property (IP) ownership, with blockchain it is possible to trace and equip every IP with a digital 'fingerprint' that always changes and evolves as the licensing and ownership status of the IP changes. At the conceptual level blockchain has the potential to unleash a new reality for the publishing ecosphere.
As a terrain that changes every year depending on new technologies, digital publishing always keeps us on our toes. Some of the new terms will find commonplace in coming years making every publisher embrace and apply the new idea. Apart from above discussed there are other things that have been changing the landscape which can't be ignored to stay in the race. Audiobooks are the fastest growing segment in the digital publishing industry. The United States continues to be the biggest market for the audio format and in 2017 there was over $2.5 billion dollars in sales. Audiobooks are becoming so popular that publishers are skipping the book entirely and are initiating a straight to audio production. Other trends include indie-traditional hybrid publishing – a working amalgamation for aspiring authors and established authors; community publishing – publishing for specific set of readers; visual content, mobile apps, subscription models, professional approach to book cover, authentic photography, social media marketing and more.