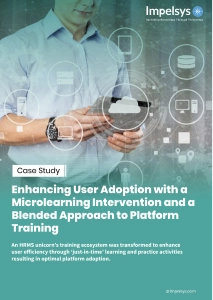 Enhancing User Adoption with a Microlearning Intervention and a Blended Approach to Platform Training
Industry:

IT

Offerings:

Learning and Content Services
Services Provided:

Microlearning and Blended Approach
Business Case
An India-based HRMS organization sought to enhance user adoption by streamlining the platform training process for its tech team and system administrators. They were looking for a solution that would enable users to quickly acclimate to their platform, operate efficiently, and receive additional support as needed.
The Solution
Impelsys suggested a microlearning approach that included short video nuggets, practice activities, a test series, blended learning, and comprehensive documentation to provide a complete learning experience for the HRMS organization. By using a blended approach and developing resources that could be deployed in physical and online classrooms, Impelsys ensured that all identified experts received the same level of training.
Outcome
The microlearning approach helped users learn and implement the steps quickly, resulting in speedy task completion. The practice activities enabled users to gain expertise in carrying out specific tasks without affecting the existing system. The blended learning approach helped to standardize the training process and provide a comprehensive learning experience. Finally, the help files and documentation provided continuous support to users even after the training sessions were completed.
Download the whole case study by filling the adjacent form.