Digital Asset Management Systems (DAMS)
With the growing need to deal with media rich content on your websites, enterprise digital asset management has become one of the major concerns. Making a choice amongst the numerous solutions available in the market can be tricky.
This article aims at introducing DAM system, considerations to be taken into account while choosing an appropriate DAM, AEM DAM and its place in the market.
An asset could be textual documents, images, videos, and 3D assets. And an effective solution must allow organizations to deal with media rich content to create, archive, repurpose, manipulate and be able to re-monetize these assets.
DAM is all about the control, flexibility, portability, access, and reporting of digital assets between organizations, customers, partners, and suppliers. It is concerned with delivering the right content to the right people, on all devices, mostly in real-time, with the ability to track and measure digital asset engagement across an enterprise and its potential global reach.
The following are the measures to choosing the best Digital Asset Management System:
Investigate Existing Digital Assets.
Examine the potential use cases for the DAM solution with key stakeholders to better understand its benefits and accessibility requirements.
Consider cost, scalability, integration, and security when evaluating alternatives.
Pick a few possibilities and request personalized demonstrations to see how well their solutions fit your requirements.
Put the strategy into action.
Successful DAM solution functionality:
A successful DAM solution should include the following features:
Asset lifecycle management and role-based permissions: You should be able to manage your digital assets from concept to completion and throughout their lifecycles with a DAM system. In addition to the granularity of access rights and permissions needed to ensure the integrity of your assets.
Integration: Opted DAM solution should work with any existing or planned systems, including asset development and distribution.
Flexible bi-directional search: A versatile, adaptable DAM solution will allow you to look for materials from any angle. You may search metadata, like brand, to discover an asset, or specific assets to find metadata. Other functional areas within a company can use this capability to find and repurpose assets for monetization & re-monetization.
Capability to import and export data: DAM should be utilized for more than just data storage. You should be able to exchange digital assets, search results, and other data with your perfect solution.
Secure storage and transfer platform: It's just as vital to consider how and where assets are stored, as well as the ability to move them around, when choosing a DAM system. Consider the dependability, portability, stability, efficiency, and recoverability of your assets whether you choose on-premises software-defined storage or cloud-based storage.
Effective data transfer: File transmission speed and efficiency are critical since they have an immediate influence on your business's productivity. The capacity to share and use assets when and when you need them will aid in determining the solution's effectiveness.
Adobe Experience Manager (AEM) Assets:
Adobe redesigned the DAM with Experience Manager Assets, shifting this into a dynamic content engine that employs AI to streamline artistic processes and scale experience delivery. Now, creative, marketing, and IT teams can seamlessly collaborate to build highly customized experiences quickly and effectively.
Assets can also automatically grow to meet traffic and processing demands because it is cloud-native, guaranteeing that both the application and the experiences stay adaptable to change.
You can manage large numbers of assets, continuously develop, and provide timely, relevant customer experiences with all your assets saved in a single cloud-based, AI-powered system.
For a better understanding of AEM, watch this AEM DAM Video.
Pros and Cons of Adobe Experience Manager:
The following are some of the advantages of employing an AEM-based DAM solution:
Allows for the creation, administration, delivery, and optimization of tailored experiences at scale using thousands of assets.
Adobe Asset Link allows users to connect to the DAM and create and share asset collections from within Creative Cloud apps.
Assets automatically tag, crop, and manipulate photos and video using Artificial Intelligence and machine learning (AI/ML).
Rich media distribution is a method of producing infinite copies of rich media from a single piece of information for a variety of devices and bandwidths.
AEM uses connected tags and metadata from uploaded files to create an intelligent search method.
The AEM Indexing functionality makes future searches significantly faster.
Every employee can comment and submit feedback through the system. An instant notification is sent to them when their own assets receive a reaction, such as an update request, allowing for a more controlled workflow.
Multiple installation options – adopt a hosted cloud solution like Adobe or use a standalone, on-premises WCM.
Low-code content management system that lets you use pre-made themes or quickly construct your own.
Why should you choose AEM DAM over other DAM alternatives?
Although the significant disadvantage of implementing the AEM DAM is pricing and non-technical people may find it difficult implementing new features or adjusting existing ones. Despite the considerable expense of initial setup and upkeep, investigations have proven that the results are more than satisfactory.
According to a study conducted by IDC on several firms that use AEM Assets, there is a significant increase in content velocity, time to market, and team efficiency, raising their organization's Return on Investment (ROI) in content by 366% over three years.
This value is created by AEM Assets doing the following:
Enhancing asset discoverability and reuse.
Efforts to create redundant material are reduced.
Streamlining asset distribution to reduce time to value from marketing and brand efforts.
Workflow automation improves team productivity.
Reducing the risk of using out-of-date or unauthorized digital assets.
Gartner's AEM DAM Evaluation
According to the Gartner, some of Adobe's benefits include a vast ecosystem of implementation and strategic partners, "differentiations consumer data management skills," and a strong brand recognition.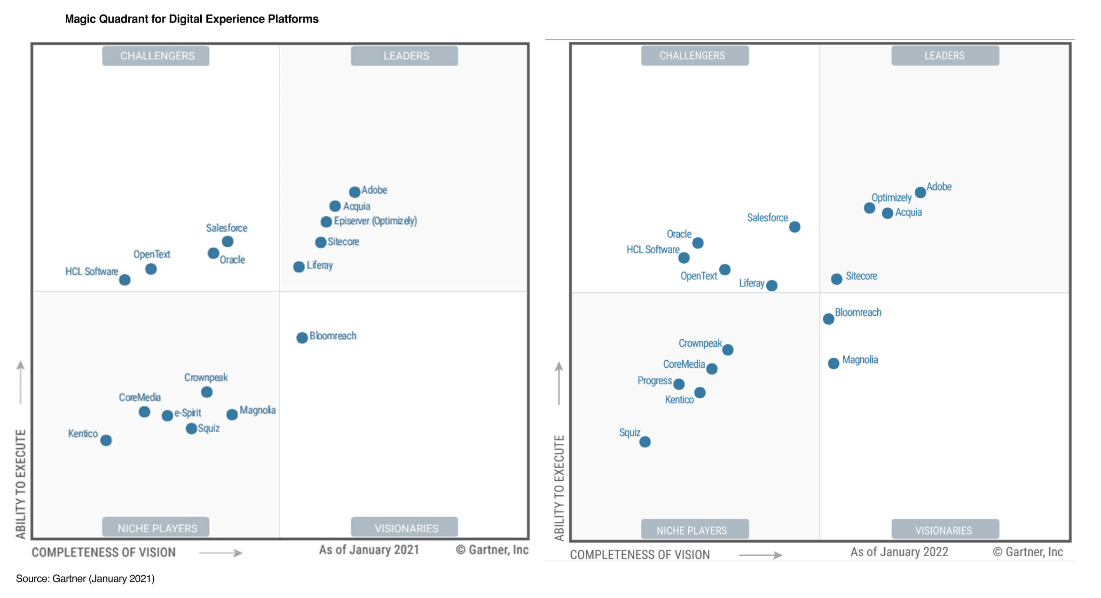 According to the survey, Adobe has some of the highest total cost of ownership, a difficult implementation procedure, and restricted usability for B2B accounts.
How Impelsys' Digital Asset Management teams expertise can help you grow your business?
We at Impelsys believe in providing an efficient solution always keeping in mind the customer's interests.
A team of highly qualified professionals shall guide and walk the customer through the process of selecting the appropriate DAM solution based on their needs. Post this our team of technical specialists will work towards achieving the solution in a systematic manner and shall always keep the customer involved for continual evaluation & feedback throughout the implementation lifecycle.
We have experience of implementing solutions for our customers in various platforms like Adobe Experience Manager, Drupal, WordPress, Liferay etc.
Connect with us:
Looking for an Expert Team that can help you bring your vision to life? That's exactly what our team of ideators, business consultants, architects and engineers have done for our clients over the years. Leveraging over 20 years of rich technology experience, Impelsys is diligently creating technology solutions with our tried-and-tested digital transformation approach and application engineering expertise to drive business growth across industry verticals. To learn more, visit Impelsys or write to us at marketing@impelsys.com to get started.
Authored by –