Digitization is disrupting industry after industry, causing companies to implement large-scale changes across multiple aspects of their business to meet the market growth. To become truly effective, organizations need to integrate digitization into every facet of their business for unlocking digital transformation success.
According to a survey done by McKinsey, businesses can achieve 20% to 30% increase in client satisfaction by focusing on customer experience (CX) with the help of digital transformation. Organizations that have innovation at their core can effectively implement disruptive technologies allowing them to gain faster time to market, stay competitive and optimize the customer experience.
Digital Transformation can enable better collaboration within and between organizations and helps them to be relevant, agile, and competitive through the rapidly changing landscape. Forming an effective digital transformation strategy can help companies to redefine their business's approach towards customer strategy and streamline their operations effectively.
There are several key characteristics that must be considered while formulating the digital transformation strategy. Let's take a look at them: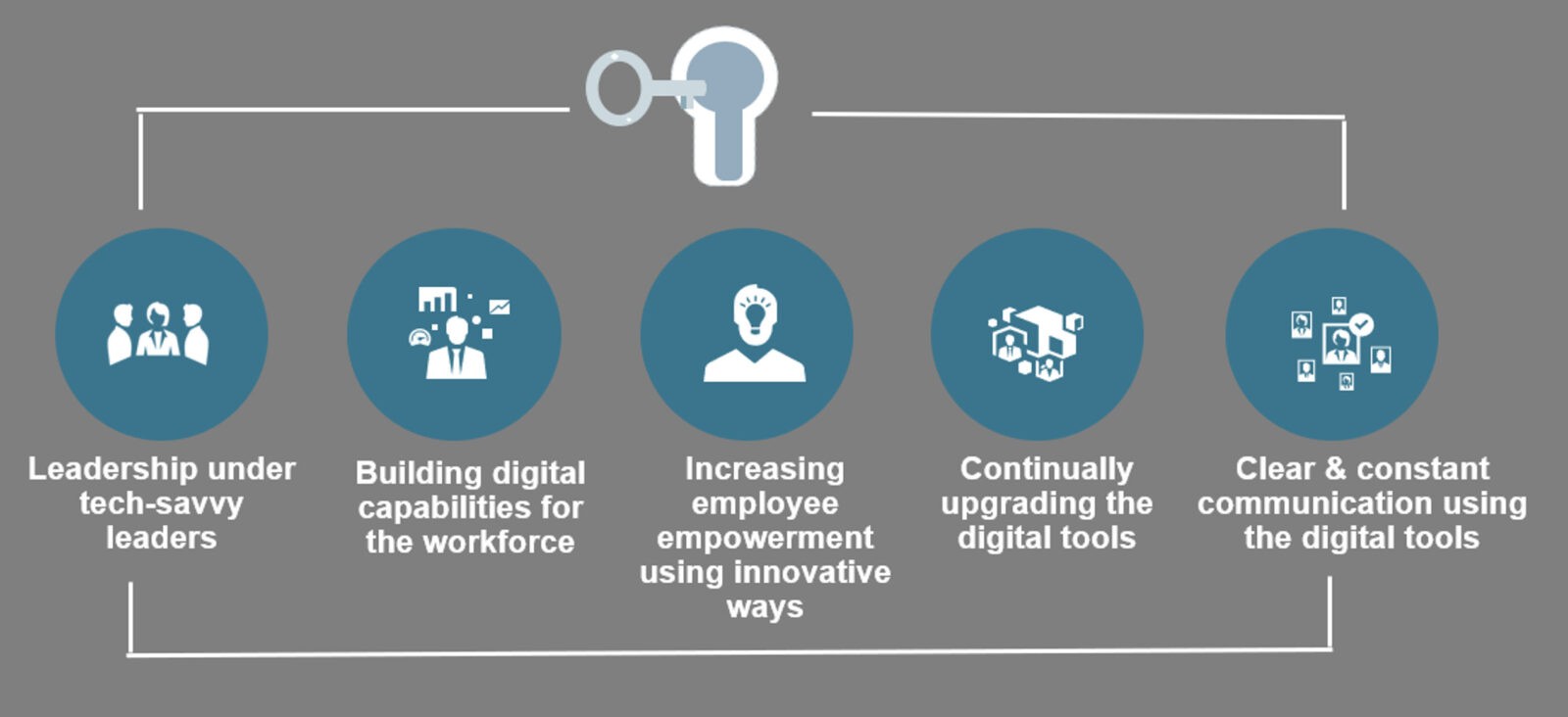 Leadership under tech-savvy leaders
Adding leaders at the engagement of transformation-specific roles is one of the keys to transformation success. It is critical for senior leaders of the organizations to be involved in the digital transformation process and be willing to try new technologies to become more adaptable and flexible in their approach.
Leaders must nurture a culture that embraces the change and develop a strategy that can help them lead to a more cost-effective and time-effective plan to digitally transform their businesses.
Building digital capabilities for the workforce
Adapting to the change in a changing business environment, organizations need to explore new digital channels, innovate delivery models, and reimagine the way in which the customers are served.
Organizations need to scale up their workforce planning and talent development to enhance the skills & capabilities required to bridge the gaps between the traditional and digital parts of their business.  It is important that employees must be empowered to work differently and keep up with the faster pace of business.
Increasing employee empowerment using innovative ways
Digital transformations require organizations to cultivate a digital culture to increase the speed of value creation and innovation among the workforce. It is observed that companies with successful transformations are empowering employees to embrace these changes.
Organizations must find innovative ways to increase operational efficiencies and streamline workflows by empowering their employees. Fostering a high-performing culture for the employees can help organizations to accelerate delivery, improve quality, and drive user adoption and satisfaction.
Using different approaches to increase employee participation and involving them in the digitization process can help them to succeed in the new digitally-enabled work environment.
Continually upgrading the digital tools
Digital transformation provides an opportunity for employees to upgrade their expertise and improve their business skillset. Providing access to the digital tools on daily basis and monitoring their performance through the data collected, helps them to make more informed strategic decisions.
Data and analytics are the key accelerant of an organization's digitization efforts and can provide valuable insights needed in this digital age. Empowering workforces with digital tools enable the employees to engage with it in intuitive ways, creating in-the-moment awareness about every aspect of the business. Thus, helping them to become better decision-makers by analyzing the information better and responding more adeptly.
Clear & constant communication using the digital tools
Digital tools can be leveraged by organizations to set a workforce communications platform that can allow teams (and others across the organization) to communicate more efficiently and effectively.
A knowledge-sharing platform can help businesses to streamline their digital transformation process by sharing insights with their teams and with the organization at large, giving everyone a clear picture of the goals so that employees feel included and informed about the changes.
Such an integrated communications system can serve as a critical function for an organization, thus enhancing internal communication and collaboration.
Impelsys Certified as a Great Place to Work®
Impelsys, a global technology services and digital transformation company has been recognized amongst India's best companies to work for in 2021 by the Great Place to Work®️ Institute.
Impelsys has been engaged in delivering digital transformations for its customers for over 20 years. While the kernel of these initiatives is culture change and focusing on building desired behaviors and people development however these critical components in place can help businesses to plan long-term strategies to scale their digital transformation as well as meet new ends as their business grows.
Impelsys has earned this recognition for creating a great place to work for all the employees and has excelled on the 5 dimensions of building a High-Trust, High-Performance Culture TM – Credibility, Respect, Fairness, Pride, and Camaraderie. The awarding organization, Great Place to Work ®️ Institute, is the 'Global Authority' for creating, sustaining, and identifying High-Trust, High-Performance Culture. Great Place to Work ®️ is considered the 'Gold Standard' in Workplace Culture Assessment and they identify Best Workplaces solely on the basis of Employee Feedback and quality of People Practices in an organization.
Embrace technology NOW, start your digital transformation journey with Impelsys TODAY.