For companies conducting exhibitions, tradeshows, business conferences, summits & events, the pandemic was nothing less than a nightmare. The industry has slowly begun to gain traction through virtual & hybrid events, helping exhibitors stay connected with their customers. Virtual events have become the new normal and will eventually pave the way to higher adoption of hybrid events across industry segments post the pandemic era.
In this rapidly changing landscape, connecting people all around the world and making an in-person connection is not a cakewalk. There are numerous challenges when it comes to gathering people for the events. This is why the traditional way of conducting on-ground events has been slowly decreasing and virtual & hybrid events in the last 18 months have gained momentum.
It is not only assist the organizations in expanding their audience base or attendees,  such events can be an effective way to increase revenue and also collect insightful, healthy, and key data about your audience or attendees. Regardless of having these positive advantages, however there are a lot of marketers, organizations, planners who are not aware of the nuances with regards to hosting virtual events. So, let's take a closer look at the realm of it.
What are virtual events?
If you have attended any webinars or panel discussions during the pandemic, it must have been online; the concept of virtual events is similar. It allow individuals to participate in the events or session and their content digitally using the internet rather than convening in person at a physical location. Attendees can watch or participate in the event from anywhere in the world. In a simple definition, events are hosted and run online for the audience or attendees to view or participate from anywhere in the world.
Virtual events saw a tremendous rise in numbers during the pandemic. With people being in closed spaces and the outside world being shut, the internet solved a lot of issues. Platforms such as Zoom, Google Meet, and Microsoft teams are heavily relied on, as opposed to the meeting rooms in office spaces. More organizations than ever before started experimenting with online events.
Types of virtual events

Webinars:  Webinars typically last somewhere from 45 to 80 minutes. These online versions of Virtual workshops are designed to educate attendees on a certain topic allowing attendees from around the world to join in and listen as one or more speakers present the content. A webinar offers normal registration for the session with a marketing objective. Organizations can charge attendees to join webinars using online payment services or can be offered for free. These webinars can be live-streamed using video streaming conference tools or pre-recorded or on-demand online seminars.  The event generally focuses on a single topic for discussion. Such webinar platforms provide better attendee tracking capabilities.
Virtual Conferences/Summits: These are online versions of on-ground conferences. Keynote speakers, several session themes, and even product demonstrations are common. Ticketing, registration, virtual venues or virtual stages, and virtual networking rooms may all be included in the virtual version of these conferences. Multiple sessions can involve community engagement tools, interacting with other attendees.
Virtual Trade Shows/Fairs/Expos/Festivals: These are multi-day events that are held in a space within a larger virtual event in different locations.   Virtual trade exhibitions and expos can enable businesses to showcase their products in a digitally-created environment while also generating new leads. Virtual tradeshows establish a direct connection between exhibitors and attendees. They facilitate several communication features such as Live calls, chat rooms, Q&A, Live webinars, or on-demand webinars. Virtual exhibit booths are created to simulate the visuals of the real world booths. Attendees fill out an online registration form and then enter the virtual exhibitor hall to visit booths.
Hybrid Events: Hybrid event is a combination of a virtual and in-person event where some attendees attend the event in person while others attend it online from any corner of the world.
How do virtual events work?
An internet-connected device (computer, phone, tablet or laptop) with a camera, microphone, and specialized software installed to host or view the event is the bare minimum required to conduct a virtual event. Virtual event platforms have the capacity to connect a host with an audience through a video link and screen sharing. It also includes some interactive elements like polls and messaging.
Virtual experiences that replicate in-person events, such as a virtual lobby, virtual expo halls where exhibitors may showcase their products and services, and virtual meeting rooms are available on more advanced virtual events systems. Virtual conference settings requires a lot of planning and organization – they are typically built up ahead of time, with images, navigation, and sessions being added to the virtual events platform to create the online experience.  Virtual participants need to sign up for the conference and upon registering, a URL is issued that can be used by the participants to join the virtual event.
A virtual event is created and built by content, data materials, attendee engagement.  Here are the components that make up a virtual event:
Preparing Attendees for Virtual Events.
Event website is used to display all the event information.
Event registration & integrations play a crucial role as the process requires a lot of time and effort if done manually. Technology has made it simple and organized. Registration software and websites allow features like managing participant details, payments, customer reports, CRM integration, Check-In, etc.
Email, chat, Roundtable.
Live presentation content streaming to broadcast the event live to the participants.
Live, one-way audio/video.
Virtual booth, Content, Banners, Logo.
Q&A session to keep the attendees engaged at virtual events.
For hybrid events, mobile Event-Apps can act as a supplemental tool to allow the host to regularly communicate with the audience and keep them engaged using gamification features and other pre-event activities.
Live Polling.
Recorded content.
Interactive video conferencing.
Feedback surveys.
Importance and value of virtual events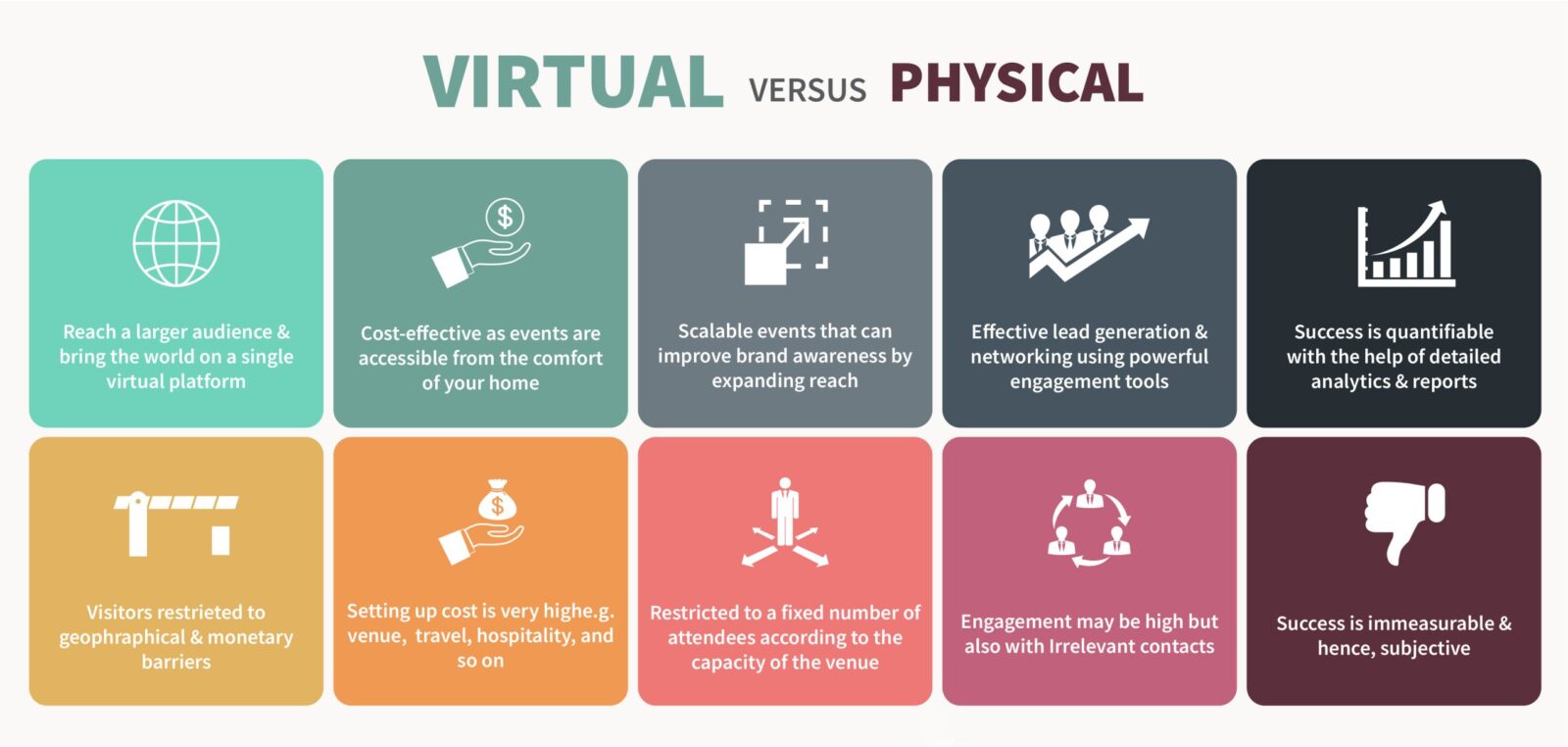 Benefits of having a Partner like Impelsys
Over the last 18 months, Impelsys has built expertise in planning, managing, and handling virtual events on a variety of online platforms available today in the industry.
Impelsys has supported one of the largest event companies that managed over 500+ virtual events since the start of the pandemic last year. With their hundreds of brands and a range of products and services, they connect businesses and professionals with the knowledge they need to learn more, know more, and do more.
We have dedicated teams that have experience in hosting webinars, virtual/hybrid events. We are a one-stop solution for hosting virtual events having experience using leading Events platforms like Swap-card, On24 among others for conducting virtual events and webinars. Impelsys manages end-to-end activities for all your webinars & Virtual/Hybrid events. Our teams are Events Platform agnostic; that means Impelsys events management team can support any new event provider solutions.
With the increase in demand for virtual events, Impelsys has grown as a trusted partner to support marketers to create, augment, maintain and support their events management and support teams. Impelsys dedicated events teams have provided a gamut of Virtual Event Support services covering planning & execution for the events which include but are not limited to:
Pre-Event Activities to support event teams, exhibitors, training, audience development, attendees engagement.
Content & Media development for the events as well as for the exhibitors.
Live Event Activities – from production support, session management, and more.
Post Event Activities – data export, analysis & CRM feeds.
Authored by –
Nithesh A, Adya Verma & Shagun Sharma