Progressive Web Apps (PWA): Your business's success drive
The Mobile web is the new tornado in the present scenario, as most people are connected 24/7 and utilize smartphones for most of their everyday tasks. As we have entered 2022, it is an era where the usage of smartphones is the most exploited one.
As per the studies: People spend more time on mobile apps than ever before, averaging 4.8 hours per day. Users are gradually shifting their focus and funds to mobile. Every minute, approximately 435,000 apps are downloaded by users throughout the world. As a result, app store transactions surpassed $320.000 per minute in 2021, and are likely to increase by 20% to 30% in 2022.
Advertisers are noticing that mobile apps have a wide reach and a high level of engagement. Mobile ad expenses are predicted to reach $350 billion by 2022, up from $295 billion in 2021.
In a modernized economy reliant on digital connectivity, 2022 is expected to set new benchmarks. Companies had the option of developing native, hybrid, or cross-platform smartphones just a few years ago. Progressive web apps are relatively new and rapidly growing choice.
What is a Progressive Web Application?
A progressive web app (PWA) is a collection of mobile web application development strategies for creating apps that feel and appear like native apps. Progressive web apps leverage a web stack (JS, HTML, and CSS) to provide comprehensive functionality and a smooth user experience like native apps.
PWAs are a combination of web pages and native apps that can be accessed through any web browser. It made life easier for mobile users. Customers will be prompted if they want to add a website to their home page and it will be added to their home screen on user acceptance. This will allow the user to organize a meeting while on the go, and it also includes some of the website's standard features, such as a unique loading screen, attractive animations, and no navigation bar.
Google announced this method in 2015, and it has since become a hot topic among engineers due to its ease of implementation and effective user engagement.
Top Features of Progressive Web Application
PWAs are frequently compared to native apps as relatively new in the last few years, they are an extremely popular approach to the mobile channel. To make a well-informed commercial judgment, it is essential to understand the characteristics of a PWA
Complete responsiveness and browser compatibility with desktop Friendliness: Progressive enhancement is a web design method that aims to provide basic functionality and information to everyone, regardless of browser or connection quality, while giving more advanced page versions to users with newer browsers. As a result, PWAs work with all browsers and devices, independent of screen size or other factors. Users of tablets and smartphones will get the same experience. You may even set the app to run on your desktop if necessary.
Connectivity independence: Connectivity independence allows progressive web applications to work both offline and on low-quality networks.
App-like interface: These apps are designed to be native apps in terms of navigation and interaction. PWAs are all about connecting the greatest possible experience, an app-like one with the open nature of the web.
Push notifications: In PWA push notifications are highly effective vehicle for conveying your messages. This good messaging strategy can keep customers engaged, motivating them to open and keep using your app.
Auto update: Apps get updated automatically keeping themselves relevant and browser friendly, overcoming a big challenge for publishers and developers to launch a new version of a mobile app. These automatic app updates keep the fresh files in the server, without waiting for Apple or Google's approval and have consumers download the update.
Security: In terms of security, progressive web applications enable strong authentication. These apps connect via HTTPS, the data we transfer is encrypted when we use the HTTPS protocol, making it more difficult to intercept and manipulate. Since unauthorized users are unable to access any material, google offers additional ranking points.
The Advantages of Using a Progressive Web App for Your Organization
Progressive web apps strive to bring together elements from websites and native apps. They have the same look and feel like native apps but are substantially lighter. It is difficult to differentiate between native app and PWA. So, to better understand how progressive web apps work, let's have a look at a few key benefits.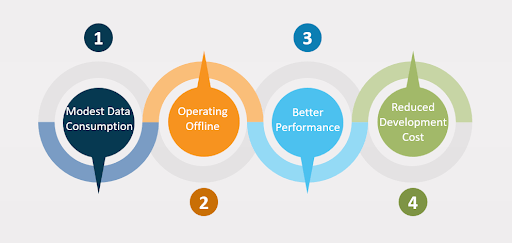 Modest Data consumption: Progressive web applications function similarly to websites where everything is loaded in real-time by saving a large amount of data. These features keep users happy and enhance the chances of them continuing to use the PWA. Native apps, on the other hand, require the user to download and install the app from the app store, as well as grant it all necessary permissions to run.
Operating Offline: The PWAs can work offline as well as online. Even if your network connection is unstable, PWA software will continue to function as a clock in offline mode. This lets users to access the PWA without having to download anything, which is very useful when connectivity is bad. PWA has shown to be the most valuable in the retail business since, it allows clients to retrieve previously accessed information by redirecting them to a personalized offline page. If the information is new. This provides better user experience and make users stay long on the catalogue, which will increase customer retention.
Better Performance: A PWA's main advantage is that it gives users a speedier experience. You can speed up the loading process even further by using cache-first networking, prioritizing resources, and using adaptive loading based on network quality. This type of software increases not only website loading times, but also user experience, retention rates, and client loyalty.
Reduced Development Cost: PWA has shown to be the most cost-effective method. The cost of PWA development is influenced by the project's complexity. If your project is small and less complicated, it will take fewer man-hours to accomplish. As a result, the cost of developing a PWA will be significantly reduced.
How Impelsys' PWA experience can help you grow your business
Impelsys offer high-end progressive custom web application development services that are incredibly efficient, highly responsive, and tailored to specific customer requirements. We combine the power of Progressive Web App technology with our significant Mobile and Web App development experience to create a feature-rich solution. Our dedicated PWA developers team blend technical knowledge with a passion for creating meaningful experiences. We assure consumers gets an immersive app experience on your website.
Connect with us:
Looking for an Expert Team that can help you bring your vision to life? That's exactly what our team of ideators, business consultants, architects and engineers have done for our clients over the years. Leveraging over 20 years of rich technology experience, Impelsys is diligently creating technology solutions with our tried-and-tested digital transformation approach and application engineering expertise to drive business growth across industry verticals. To learn more, visit Impelsys or write to us at marketing@impelsys.com to get started.
Authored by –