Today's consumers are digitally savvy, more connected – and more demanding.  Businesses need to rethink their digital strategies and focus on delivering customer-centric experiences across various channels.
Before we delve into the details, here is a snippet of a discussion with our customer for their business needs —
During our Monthly Customer-Business Review, one of our strategic customers enquired about managing the enterprise knowledge and making it available to the users securely. Below mentioned were some of the interesting asks that they were looking for in a solution
An Enterprise-grade solution that is capable of providing the following –
Built-in Digital Asset Management features
Content Management features
Availability on the Cloud
Powerful Search capabilities
Task Management
Effective Video Management capabilities
Should easily help convert Visual Media
Provide Project Dashboard
An immediate response to our customer's query – All that you are looking for is encapsulated and found in one solution and that is Adobe Experience Manager (AEM).
AEM provides a unified approach that allows businesses to manage their digital assets easily and efficiently. It streamlines organizational workflows, encourages cross-channel consistency, and delivers users experiences that are engaging and personalized.
Adobe Experience Manager (AEM)
Adobe Experience Manager is a leading Content Management Solution. Within a short span, AEM has established itself as a go-to-platform for knowledge management for enterprises, driving many corporations to build their knowledge systems using AEM.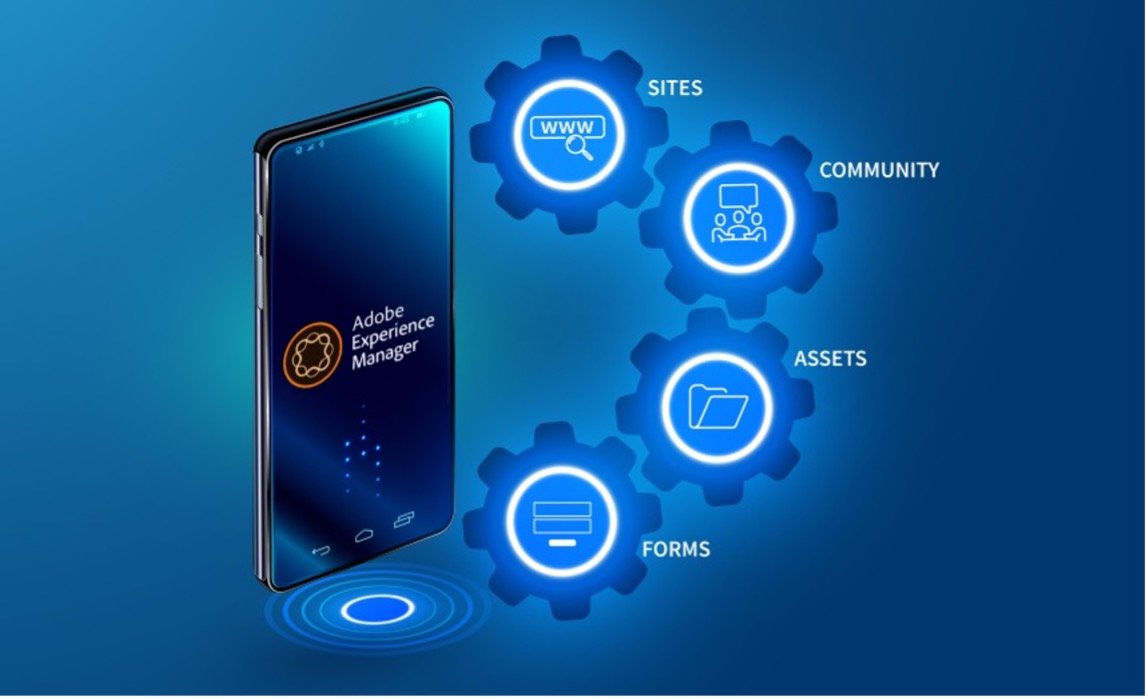 AEM supports primarily five modules namely – sites, assets, mobile, forms, and community – together they make a great platform for knowledge and access management. All modules together provide a flexible and scalable solution to meet the specific requirements of businesses and are tightly integrated with Adobe Creative Cloud, thereby stitching up the processes of creating and managing content. The key capabilities including digital asset management & cloud support are making it the go-to option for user experience-based site development.
All in one solution that the customer needed
DAM (Digital Asset Management)
Content Management System
Creative Cloud Integration
Better Search
Task Management
Video Management
Visual Media Conversion
Project Dashboard
What more can AEM Give You
Helping some of our key customers, we at Impelsys have established an AEM practice that handles numerous projects under the AEM Portfolio. With top-notch UX designers to help customers envision their dream coming to life building prototypes to developers who bring it into reality by implementing it on AEM platform, we are executing some of the prominent projects at Impelsys.
Impelsys Adobe Experience Manager Capabilities
Extensive experience in End-to-End AEM development projects
Hands-on experience on Adobe suite including various AEM modules – Sites, Assets, Mobile, Forms, and Communities
Deliver expertise related to site maintenance, updates, upgrades, technical support
Provide RESTful web-services, external system integrations with AEM
Integration of Adobe Analytics with the AEM for web page insights
Creating & maintaining the custom workflows
Configurations of various OOTB components for user authentication & authorization
Played a key role in emergency response, site migrations, site availability & performance
Significant experience in content management & web development of platforms
Provide seamless client interactions, tracking & reporting for executions
Expertise in design, build, test, deployment of AEM applications
Facilitate top-notch quality solution delivery
Deliver tailored solutions to provide personalized customer experiences at scale
Impelsys is a hands-on Adobe Experience Manager Expert that can help you design, build and deliver a seamless digital experience and drive customer engagement. With our Adobe Experience Manager services, get the best of fully integrated CMS, DAM (Digital Asset Management), Digital Enrolment, and AEM Cloud Integration of your websites for a cohesive digital experience.
If you'd like to learn more about Adobe Experience Manager, get in touch with a member of our team to arrange a consultation.