Impelsys has been at the forefront of serving across the Science, Technology, Digital transformation and Medicine (STM) industry, with 20 years of experience in partnering with knowledge enterprises across the world. We pride ourselves on our personalized services tailored to the business needs of each of our clients. In the areas that we are engaged in, we provide innovative design, agile methodology-based software development and application of cutting-edge technologies to implement business solutions that help our clients succeed in the increasingly competitive markets.
Apart from the domain expertise, Impelsys has considerable experience in providing technology services to its global clients. The services cover market & competitive research, requirements engineering, product engineering services, solution architecture, user experience design, infrastructure design, web & mobile application development, sustenance engineering and more. Over the years, we have proved our mettle by delivering numerous successful digital transformation projects for our clients in Publishing, Education, Fintech, Training, Manufacturing, Data Science and Knowledge industries.
Our Technology Expertise
Impelsys' technology services cover a range of offering of best-in-class technology offerings and software infrastructure.
Our technology expertise has been utilized by our clients to build consumer applications, ecommerce solutions, business solutions, ERP applications, MIS systems, business intelligence applications and decision support tools.
For our traditional content and learning verticals, we bring together decades of experience having developed a framework of solutions to rapidly develop enterprise-grade online learning solutions, assessment solutions, and content management solutions. Impelsys has a dedicated mobile apps development hub with a track record of developing over 100 apps on iOS and Android.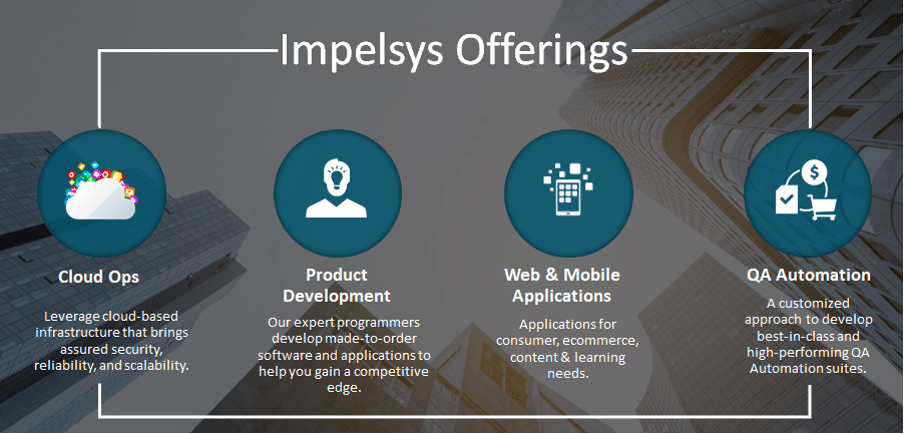 Our Domain Capabilities in the STM
Impelsys solutions and technology teams are abreast with the latest technology developments, enabling us to add value throughout the engagement on publishing and elearning lifecycle. Our solutions and services cover
Content Monetization Platform & content databases.
Tailor-made assessment & learning solutions for professional learning
Authoring & Editorial workflow solutions.
Search & Content Mining
Subscription platforms
LET'S GET YOU STARTED!
To find out more about our Technology & Publishing services kindly contact us today.