Associations know the challenges of providing their members with education that is engaging and significantly reduces learning gaps. Learning is not a one-size-fits-all process; it needs to be individualized to suit the learner's needs and learning styles. That is the promise of adaptive learning combined with updated course design.
What Is Adaptive Learning?
Adaptive learning adjusts the user journey based on the learner's knowledge and learning progression. It tracks information as the learners take courses, providing only the specific materials they need at any given time.
This makes learning more efficient and effective since students are not wasting time on material they have already mastered. It also helps learners stay engaged since they are constantly challenged and rewarded with new information.
Adaptive learning is especially helpful for associations as it helps to personalize the learning journey of a learner based on individual requirements and existing knowledge. Learners can be tested on their existing knowledge and automatically see a learning path that would take them forward toward new information.
Benefits of Adaptive Learning
A learning experience can be:
Customized in many ways to make it learner-centric, adapting to learning styles, requirements, convenience, and availability.
More efficient by adjusting complexity based on the learner's existing knowledge.
More focused by considering the learner's performance and confidence level. This reduces the learning time as the approach is centered around providing only the required modules and not the entire course.
Engaging since it focuses on just what the learner needs and includes interactive, microlearning modules.
How Can It Be Applied
Overview
A leading healthcare association offered a 40-hour-long instructor-led training (ILT) program that learners had to complete in a linear manner. Learners had to complete lengthy modules to achieve certification. Much of the course happened at live training centers that weren't convenient for learners or cost-effective for the association. Learners were forced to complete modules that they were already competent in, leading to wasted time and member dissatisfaction.
Business Requirements
The association wanted to digitally transform this material into shorter, digital training modules (microlearning) that would be more engaging and cater to each learner's knowledge level. Instead of a one-size-fits-all linear path, the organization wanted to ensure learners had the option to choose only the topics new to them, in addition to the mandatory training programs. They wanted an adaptive, personalized learning approach with more engaging content and for their global audience to have 24/7 online access. This would reduce expenses from running training centers, allowing users to learn at times convenient to them.
Solution
Impelsys proposed a digital, modular adaptive approach that would provide a flexible learning framework based on specific learner outcomes. The content was redesigned by Impelsys and developed as "bite-sized" microlearning modules with interactivity. The course format considered each learner's skills, knowledge, and learning style to adapt and create a personalized learning journey.
The solution included a pre-assessment that tested the learner's existing knowledge of each topic to create an adapted learning journey. Depending on their performance in the test, the learner could have a shorter version of the original training, covering only the mandatory topics and the topics that required more detailed attention. This solution reduced total learning time based on shorter modules and personalized learning paths. The diagram below portrays the user journey beginning with the pre-assessment.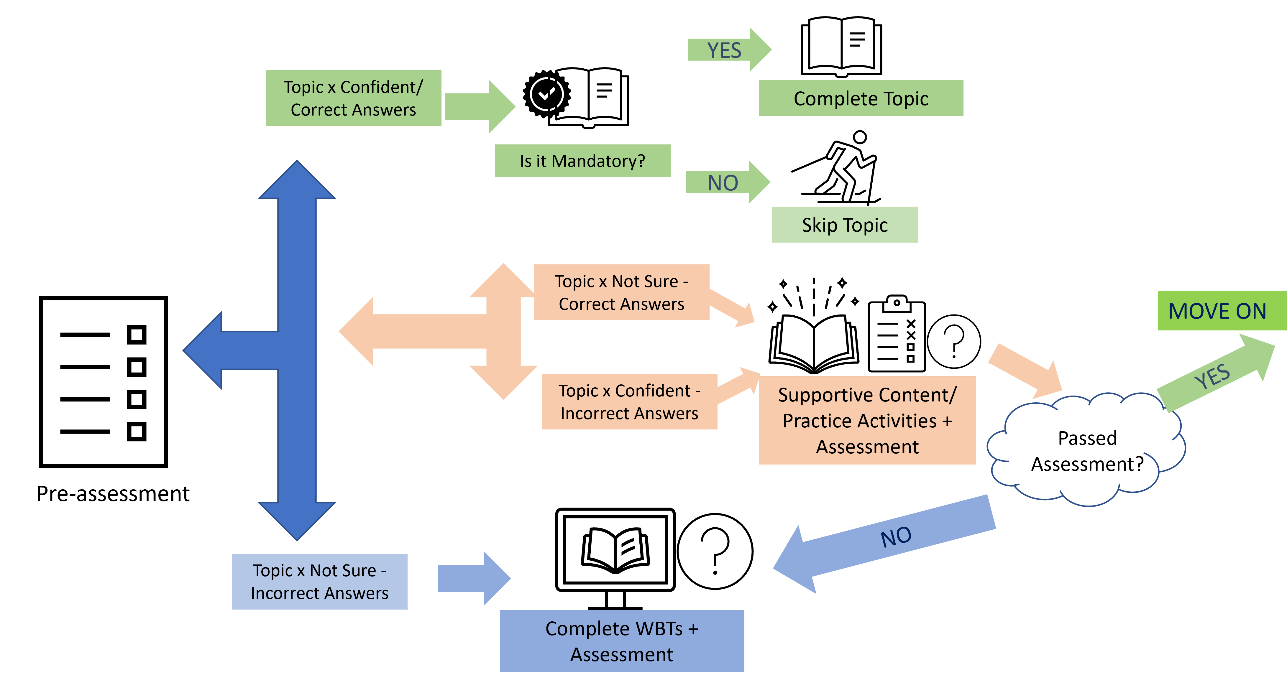 Benefits
Adaptive Learning is about helping each learner reach their full potential. It provides members with the individual education paths they need to succeed at work. In combination with updated course design, members will be more engaged and happier with the learning you provide. If you are looking for a more interactive and engaging way for your members to learn, future-proof your learning with adaptive learning and new content design and development.
Authored by – Diane Perrino and Chaitali Pal Chowdhury
Contact Impelsys today to begin the digital transformation of your education program!