How can Instructional Designers adapt to AI?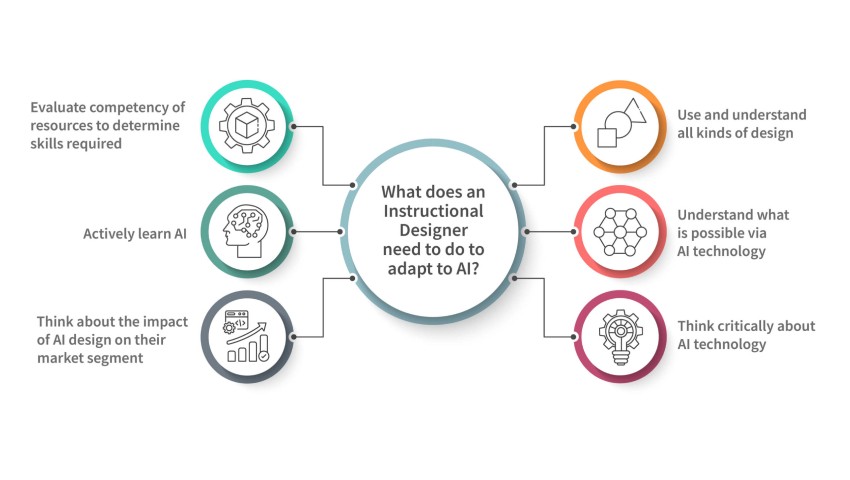 Instructional Designers will have to adapt to Artificial Intelligence (AI), which will soon, if not already, play a significant role in the online learning landscape. As we see a shift towards AI services and products, we need to identify and train individuals with AI skills and attitudes and equip them with an agile instructional design methodology to deal with this new demand.
This means understanding the new technology, learning, and dealing with AI-aided design and curation rather than doing this for themselves. The gear shift in skills is interesting, and here are some suggestions on how instructional designers can adapt to this changing scenario. Instructional designers will need to know what the AI software does, its functionality, strengths, and weaknesses, along with an ability to understand what the software can or cannot do.
This does not mean that instructional designers need to be able to code or have AI or data scientist skills. It does mean that they will have to know, in detail, how the AI software works. They must understand the approach, its weaknesses, and strengths if it uses semantic techniques. AI-driven learning systems enable designers to explore several AI-aided design options in their pursuit to enhance the learner's experience. However, their instructional design methodology might need to change to get this result.
AI-created content is very different and has a life of its own. The instructional designers must know the major areas of AI, how they work, and get comfortable with the AI vocabulary to aid their learning design methodology.
Text remains the core medium in online learning, as we read faster than we listen and because it is editable and searchable. That's why much of social media and messaging is still text at heart.
However, the writing one has to do in the new world of AI has more to do with what NLP (Natural Language Processing) does. In large projects, knowledge of how the NLP works has been an invaluable skill. Instructional designers can be trained on NLP. For example, to write for chatbots, one must know what the technology can and cannot do and write natural dialogue (a rare skill).
When data is plentiful, it needs to be turned into information and visualized to make it useful. Knowing how to visualize data is a valid exercise; however, to turn data into information, you must first understand the different types of data in learning, how data sets are cleaned, and the techniques used to extract valuable insights.
For example, do course completions correlate with an increase in sales in those retail outlets that complete the training? Training can then be seen as part of a business process where AI formulates an agile instructional design model to create the learning, analyzes, and improves the business.
It is not that you require excellent data scientist skills, but you need to become aware of the possibilities of data production and the techniques used in this area.
For AI to enter the mainstream of education, instructional designers must have design methodologies that enable them to create AI-driven learning products efficiently. The most commonly used instructional design methodology, ADDIE (analyze, design, develop, implement, and evaluate), does not address the needs of AI-driven learning systems because it adequately defines the role of data in the design process. Various workarounds are being explored for ai-aided design innovations.
Data-Driven Development (D3) is a methodology that takes full advantage of data and machine learning. Data informs design early in the process and continues throughout the product life cycle. Evaluation takes place constantly. A series of assessments simultaneously test learning effectiveness, test new product versions, and collect data sets for use in planned product improvements.
Conclusively, instructional designers can adapt to AI by:
Thinking and analyzing the impact of AI design on their market segment.
Actively learning about AI.
Evaluating competency of resources to determine skills required.
Using and understanding all kinds of data and design formats.
Understanding what is possible via Al technology.
Thinking critically about AI technology.
Authored by –