Technology innovations like digitization have led to monumental shifts in the functioning and growth of traditional industries. The publishing industry has realized this and has started to convert its content into 'smart content' using metadata tagging.
Metadata acts as a backbone for the publishing industry, and with the rising popularity of ebooks, publishers need to create relevant metadata to help make their books more discoverable to the online world. Suppose a publisher does not add metadata to its book; in that case, it might get lost in the digital web for all eternity. Therefore, using metadata plays a vital role in the accessibility ecosystem.
What is Metadata Tagging?
The term "meta" essentially means data about data! Metadata is the process involved in assigning tags to digital content in a publication or document, thus making it easily searchable, clearly organized, and ready for new digital business models.
The better the metadata and more accurate tagging ensures better discoverability of the content. The publishers can use metadata to create bundled packages of content (books, journals, research papers, articles, etc.) to sell to specific target audiences.
Here are a few of the major metadata elements that publishers can and should leverage:
Titles and Descriptions
The meta description offers a summary of the page content. The search presents meta tag as a snippet in the SERPs for any content displayed with the mentioned description. The title is an independent HTML tag, an element in the HTML head that appears when it is bookmarked in the title bar and drives results accordingly. The HTML title tag and meta description tag are still vital for SEO and generate precise information about the page content.
Keywords
Using relevant keyword tags helps the search engine show the user HTML web pages with the corresponding keywords to their search.  The keyword tag is a primitive search engine feature that allows retrieval of the HTML pages containing the keyword meta tag's appropriate search terms.
Google-Specific Metadata
Google has a gamut of custom meta tags that impacts SEO most, authorship and publisher meta tags being the most important. Adding the authorship meta tag and adding the website to your Google+ profile aids in generating the much-desired rich snippet and helps put your face in the search results.
Benefits of Metadata Tagging
Improves content discoverability: Adding specific tags help tell search engines, browsers, and other tools what the content is about and how to display the information. Thus, extracting information from sources, such as an article or specific keywords, thereby populating metadata, helps improve the content's findability.
Extends data longevity: Typical data set can often become missing or unavailable if relevant metadata has not been added. When relevant metadata is developed and maintained, it counters typical data degradation. It does so by managing unstructured data into a structured framework to identify and classify various data, including videos, audios, seismic data, user data, documents, logs, thereby adding relevance to the data.
Facilitates data reuse and sharing: Accurate metadata tagging ensures that highly detailed or complicated data can be easily interpreted, analysed, and processed, thereby enhancing the content's discoverability to the targeted audience. With the relevant tags in the right place, publishers can parse data from individual sources and create customized content sets for prospective customers.
Metadata Tag Extractor Powered by Impelsys' SSAM.ai
Managing a vast amount of information and organizing such large content monitoring environments becomes a real challenge for organizations. To effectively cope with this challenge, Impelsys supports tags and metadata. Tags and metadata enable you to organize your content environment in a meaningful way.
Powered by AI-NLP, Metadata Tag Extractor™ can automatically generate insights from a given learning content and associate them with tags that reveal additional information. This helps in creating a specific web of knowledge representing your organization or business domain.
How does the Metadata Tag Extractor work?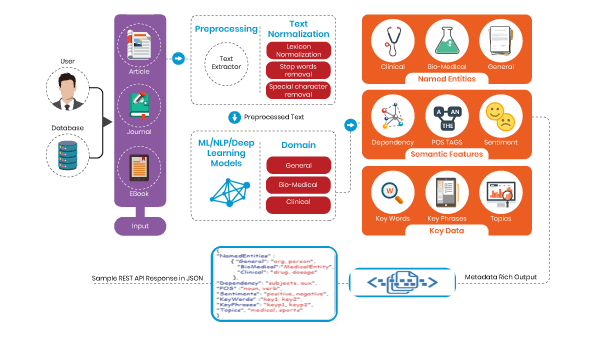 Metadata Tag Extractor Enables You To:
Search/Content Discover
Powerful search and complex query builder
Intent-based results
Search Ranking based on tags
Discover Relevant, Trending, and Engaging Content
Document Classification
Allows Sentiment Analysis: Classify documents by determining the overall sentiment (Positive, Negative, or Neutral)
Sort and route documents to a relevant term
Suggest Recommendations
Provides additional metadata to improve the quality of recommendations.
Add semantic capabilities and user interests using relationships between extracted tags.
Metadata Tag Extractor helps you to:
Search more innovative, get personalized recommendations on your learning content, and generate contextual insights.
Facilitates adaptive learning and responsive solution.
Enrich your experience with an intelligent search platform.
Access personalized content automatically.
Organize and categorize your learning content for your end-users seamlessly with the AI and NLP capabilities of SSAM.ai.